Remove Background, the new standalone version of our project-embedded Green Screen tool, allows you to cut out objects, people, or any other element you could possibly desire from a video clip.
Most post-production green screening options require painstaking frame-by-frame edits by manually highlighting the border of objects. With Runway, you can create professional masks and cut objects from videos with just a few clicks.

Once you've highlighted the object from the video, you can swap the background, display text behind it, or even selectively apply visual effects to the region. Here are the steps to get started!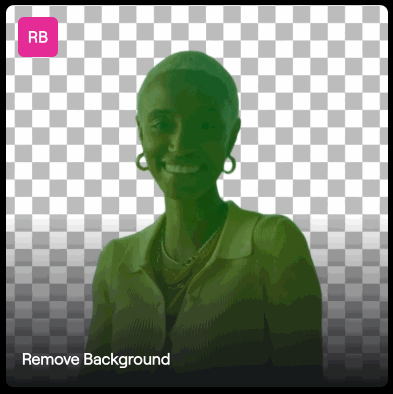 1. Import video clip
From the dashboard, navigate to Edit Videos, then to Remove Background.
First, you'll need to upload your clip. You can drag and drop your clips directly from your computer into Runway, or sort through the Assets section on the left side if you've already uploaded them. For more information on what kinds of video formats we accept, see here.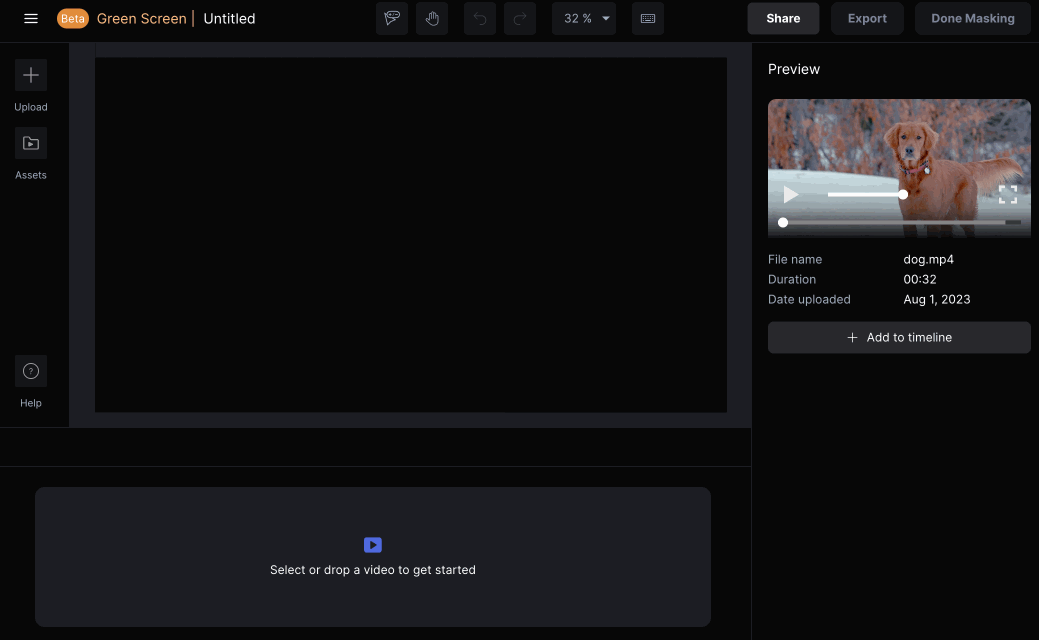 💡 To achieve the best results possible in the least amount of time, we suggest sticking to clips with a well-defined main subject, with still or smooth camera movements. It is not recommended to use clips with a busy or poorly defined background, of low quality, or where the subject is moving in and out of the frame frequently.
Remember, the quality of your original clip will directly influence the quality of the results.
2. Create Mask
Once you've imported your clip, it's time to create the mask that will determine what isn't part of the background you're removing. To begin, click on an area of your clip that you'd like to select — we suggest clicking on a central area of your subject first.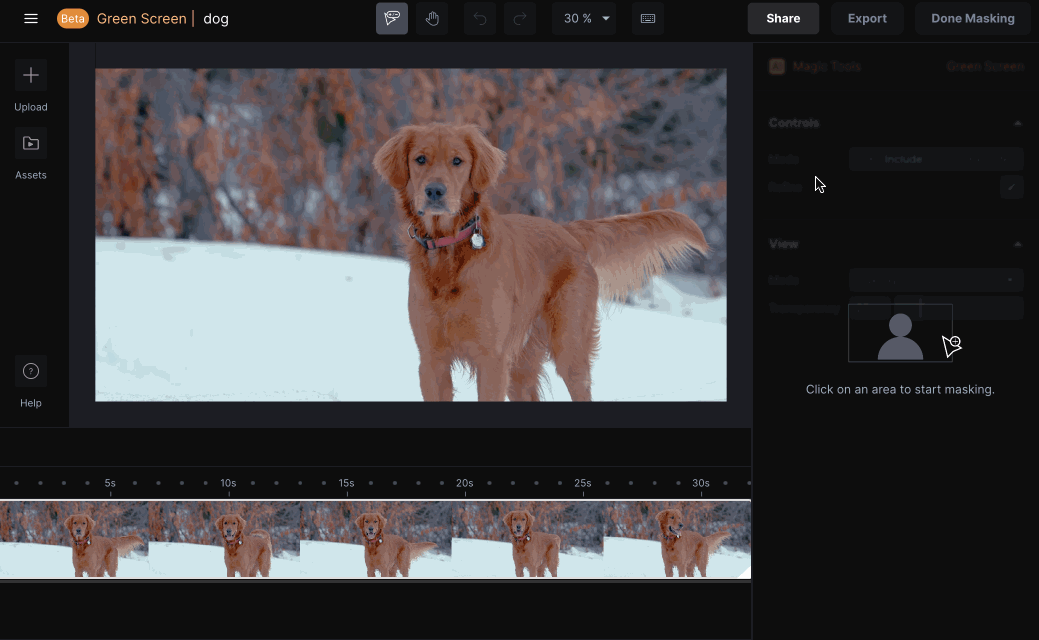 If there are still more areas you'd like to include, continue clicking on different areas of your subject until the mask is satisfactory.
Oppositely, use Exclude in the Controls sidebar to deselect areas. These actions can be easily toggled between by using keys 1 and 2 on your keyboard.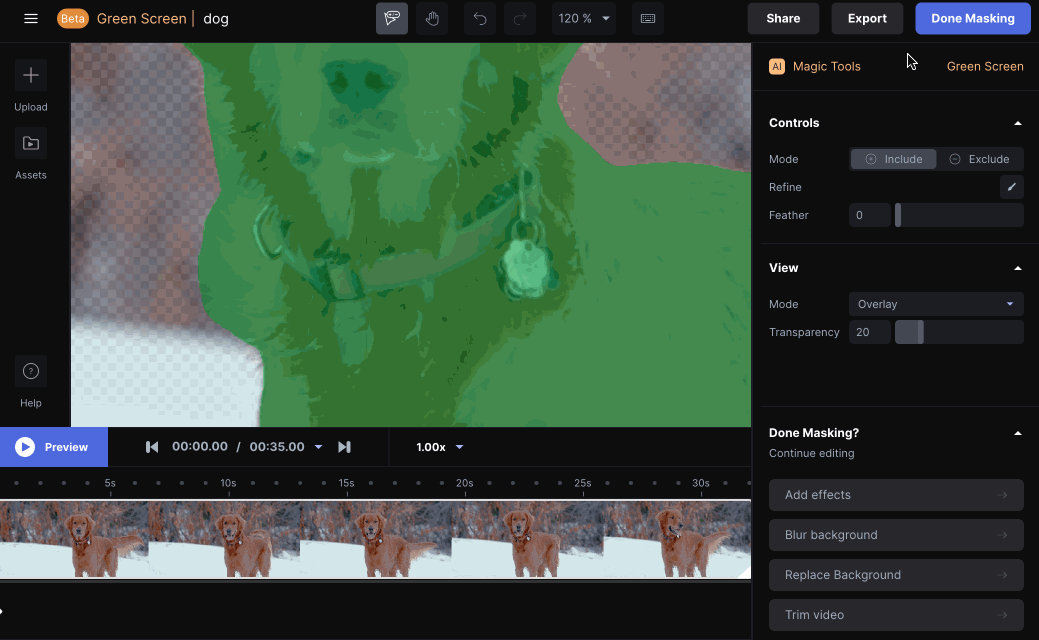 You've just created your first keyframe! This will act as a point of reference for the rest of the clip.
When the mask looks good, be sure to hit Preview and play the entire clip, looking for areas that may have been missed. Create more keyframes as necessary. We recommend doing this in chronological order, only as needed.
If your clip is more complex and requires fine-tuning, select the Brush tool from the Controls sidebar to manually paint over detailed areas.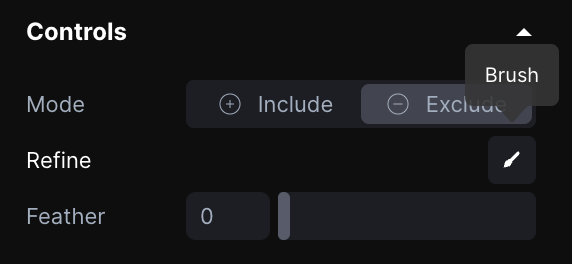 This is easiest to do after zooming in, which can be controlled by our simple zoom shortcuts: + and -. These touch-ups will be propagated to the following frames in your clip.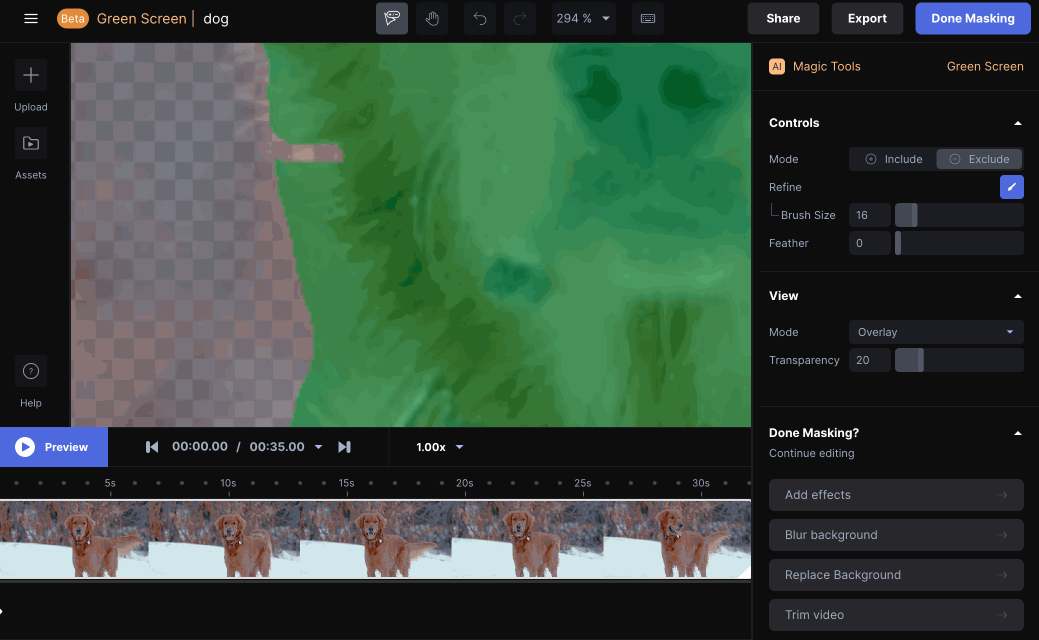 There are some additional tools in the sidebar under View that may be helpful during this process. From here, you are able to control whether you're viewing in Overlay, Preview, or Alpha Channel modes. The Transparency toggle in Overlay view often makes it easier to see your mask adjustments.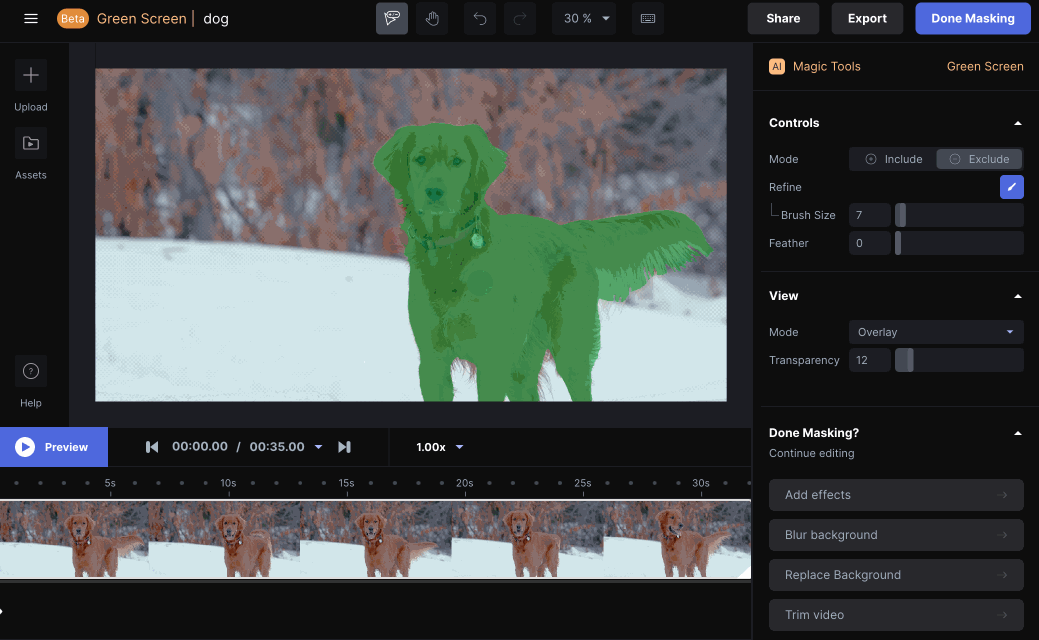 3. Export
When you're happy with the entire clip, there are a couple of options. You can choose to export the clip directly from here or continue editing by adding the clip to the timeline, applying effects, and more.
To export your clip, select Export Mask at the top right of the screen. A menu will appear filled with customizable options for exporting. From here, it is possible to change the Background Color to any color of your choosing, choose Format options like MP4 and ProRes, among other options. After selecting Export Mask from this menu, your clip will begin exporting to Assets. If your email notifications are turned on, you will also receive an email once the export is completed.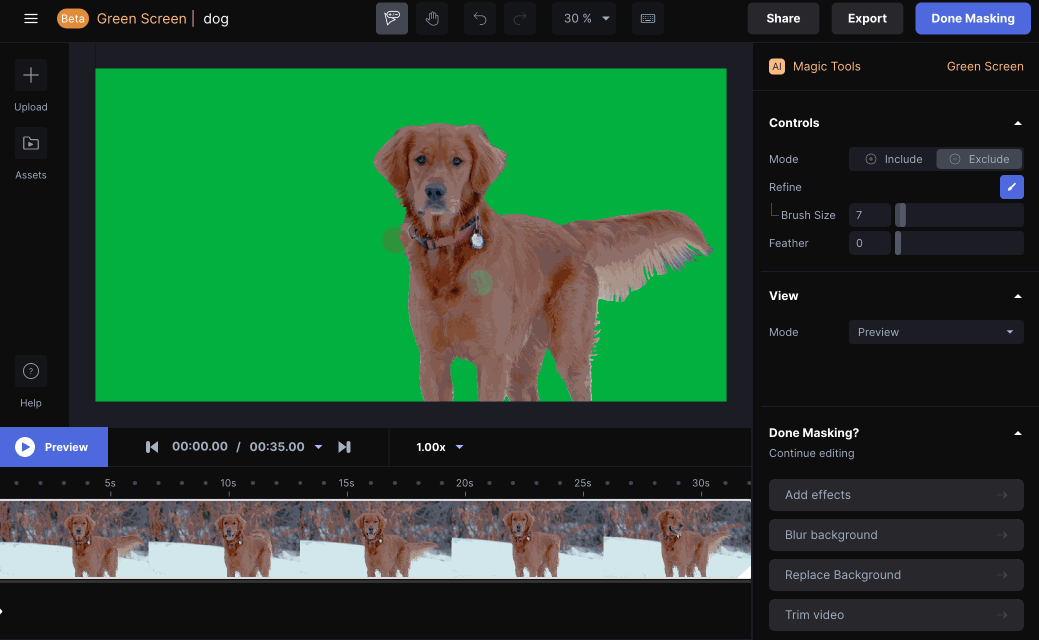 💡 To export with transparency, toggle Format to ProRes. To export an Alpha Matte, check the Export Matte checkbox under Background Color. You can also choose a custom background color by clicking the plus icon next to our pre-defined color options.
If you'd like to continue editing with your newly masked clip, select Done Masking to open our fully featured editor.

From here, the possibilities are endless! Add a new background behind the mask, adjust brightness and contrast, apply unique effects, and more.