If you haven't been able to find an answer for your question in our Help Center, in Runway Academy, or in the Beginner's Guide to Runway, you can reach out to a support agent for additional assistance.
Due to high demand and increased ticket volume, please make sure you follow these instructions exactly as shown below to ensure your ticket ends up in the appropriate queue. Skipping steps or submitting anywhere else will result in your ticket being subject to longer wait times.
All Runway creators on any paid plan (Standard, Pro, Unlimited, or Enterprise) receive guaranteed priority response with an expected 1-3 day response time.

2. On your dashboard, click the purple button in the bottom left corner
This will open a screen with a search bar that reads How can we help?

3. Type your inquiry into the search bar and hit the "enter" key
Try to be as specific as possible, making sure to include what tool you're using (e.g. Gen-1, Green Screen, etc.) and any other key terms.

4. Browse our existent documentation
After searching, you'll be shown a list of help center articles that might answer your question. Make sure to click into any article that looks relevant, to see if your question has already been answered before.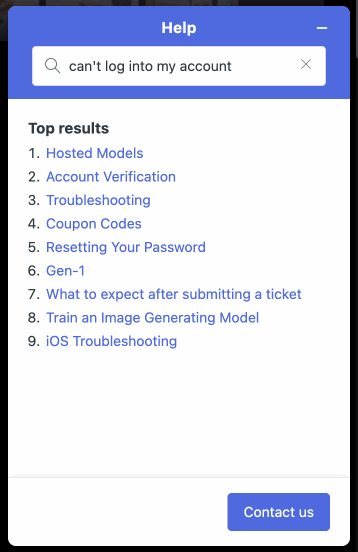 5. If you can't find an answer, click "Contact us"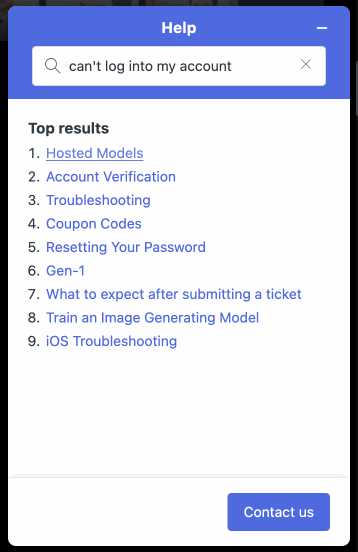 6. Then. select "I have a question about Runway/my account"
This will open the ticketing form. If you select "I am interested in using Runway at my company", this will put your ticket into the sales inquiry queue instead of the proper support queue — thus, please make sure to select I have a question about Runway/my account.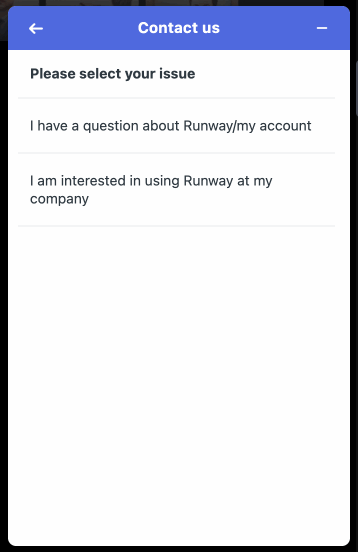 7. Fill out the form with as much detail as possible, then click Send
To submit, you'll have to select a topic and confirm that you've checked the Help Center. The more detail you can provide, the better!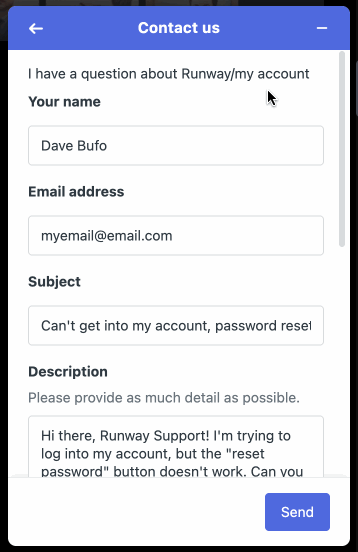 With this last step complete, you've successfully submitted to our support queue!
Frequently Asked Subscriber Ticketing Questions
Q: Will this initiate a live chat with an agent?
A: No. At present, we only offer email-based ticketing in order to keep track of feedback, bug reports, and other important assistive information in the long term.
Q: If I submit multiple tickets, will you reply faster?
A: No. Submitting multiple tickets about the same issue slows down the queue for everyone.
Q: I have more information I need to add onto my ticket. Where can I do that?
A: You'll receive a submission confirmation shortly after sending off your ticket. If your case develops before an agent replies, you can reply to that confirmation email to amend more information onto the case.
Q: I already submitted through a different method that isn't this way shown above. What now?
A: In this case, please resubmit your ticket using the exact method shown on this article. Our agents likely won't be able to find your original inquiry in a timely manner, so resubmitting is the best way to ensure you'll receive the support you need.